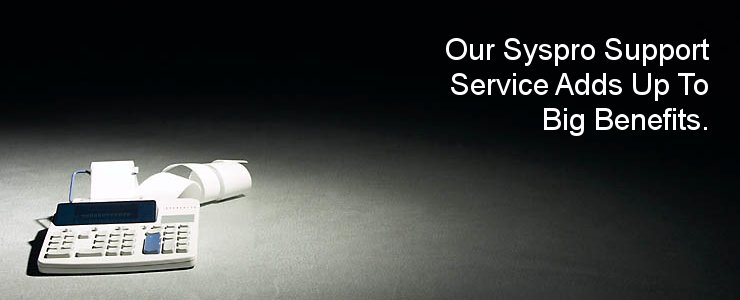 Professional consulting
For existing users of SYSPRO we offer professional consulting services. Why use us? We have experience, yes. We've seen our fair share of problems that need to be sorted out. We've trained enough people to know what the average (and not-so-average) user needs to get going. We've also written enough reports to know what managers want to know. And we've set up enough systems to know where the pitfalls are and how to overcome them. All true. But if there is a single reason for you to pick up the phone now and call us, it is this: we know why.
We know why you want to succeed. How much you want to get business done with the least number of problems along the way. Who wants to have a computer system hold up an entire day's business? No-one. Not you and not us. And this is why we are in business - to prevent that from happening. More than this, to make sure your system actually helps you get business done as quickly as possible. You want to have everything you need for your business to succeed. We're here to help you get it.
Sales
Syspro SA, the producer of SYSPRO, works with a network of support companies to market and sell its product. We are registered with SYSPRO as a Value Added Reseller and are therefore authorized to market, demonstrate and sell SYSPRO on their behalf. If you want to see what SYSPRO can do for your company, our demonstrations are professional and informative. Call us now for a free demo. We are prepared for all your questions.
Current SYSPRO Version
Syspro South Africa's current flagship product, SYSPRO, is a multi-award winning system. For some time, Syspro SA has been working to make their system more functional and feature-rich. Of course, more features mean more complexity and a greater need for expert assistance to make sure your business continues to run smoothly. We're up to date on all aspects of SYSPRO.
Impact Award and Impact Encore
Before there was SYSPRO, there was IMPACT Encore. And before there was Encore, there was IMPACT Award. Some companies continue to use these older versions of SYSPRO simply because it meets their needs. If you are one of these companies, you may find a waning interest to support such products. Not so with DracoTec. We consider our Encore and Award clients with the same concern and professionalism as our SYSPRO clients. Call today for excellent support and service from a company who understands your needs.