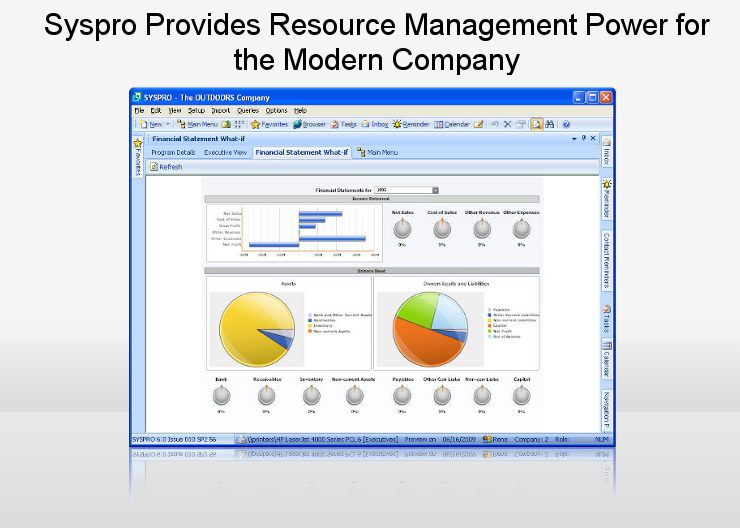 Enterprise Resource Planning
SYSPRO is a business system. In IT parlance, however, it is more accurately described as an ERP system. If this is the first time you have come across this term, it stands for "Enterprise Resource Planning". As the name implies, an ERP system helps you to plan how you will use resources inside your enterprise. This could mean employees, stock, warehouses, machines, or any other elements you use in your day-to-day business efforts.
Choose SYSPRO
Business can be so complex these days that it pays to have a great ERP system. Sure, you can get hold of a system like SAP that does all things for all companies. But the cost is so astronomically high that only really big businesses can afford it. What if you are a small to medium business, or even a large business who just wants a system that works out of the box (with the option to customize only when necessary)?
For you, SYSPRO stands out from all others in its class. It receives several awards annually for its design and completeness as a business system of choice. It's easy to install, simple to run, and provides for most areas a business will need to perform in. This includes procurement, manufacturing, warehousing and distribution, sales, and financial management. On top of that, SYSPRO boasts some of the top materials and production planning features in the world.
SYSPRO is structured to help you comply with international accounting standards like IFRS and IAS. It boasts strong security, audit trail, and reporting facilities to make sure your company complies with the strictest governance requirements.
Sales information
What do you need to know to help you decide if SYSPRO is for you? We deliver informative and comprehensive sales and technical presentations. We are ready to answer all your questions and show you why SYSPRO is the right choice in ERP. As authorized Value Added Resellers for Syspro SA, we can help you through the decision, show you how your business problems can be solved, and even get the documentation completed, making purchasing SYSPRO as easy as using it.
Resources
For more information about SYSPRO and all its great features, please visit our SYSPRO Resources Page.