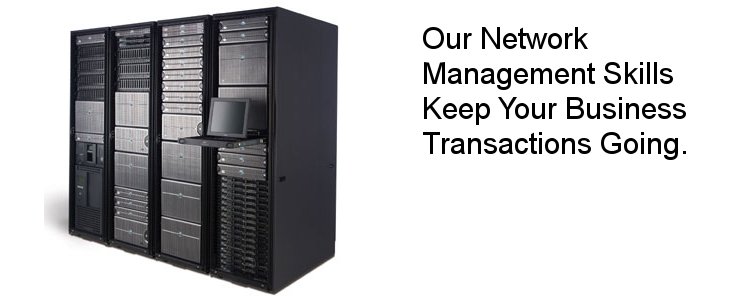 Keeping the system up
At the bottom of it all lies the network system. It consists of cables, servers, routers, desktop PCs, laptops, power supplies, mobile devices and other components that everyday people don't care to remember. Some of it is software and some of it is hardware. And it does need to be taken care of. Like your car, it needs to be serviced and, at times, repaired. Daily, it needs to be monitored and maintained. Adjustments can to be made for better performance. Above all, the data it stores and transmits moves around in a continuous stream all day, every day. And this data needs to be protected at all costs. Preservation of data requires a well thought-out and implemented backup system. Data protection comes from having a strong and enforced security policy. Whatever it takes, DracoTec will keep your system up and running.
Network and hardware support
DracoTec provides network and system management services that will keep your network and computer system in tip-top working condition. Below is a list of the various skills we offer:
System analysis and auditing: Make sure your existing network operates as it should. Iron out the wrinkles that prohibit clear communication. Sort out the nitty-gritty problems that cause hold-ups in the daily flow of information and transactions. We can analyze your system to make sure it is set up correctly and carry out audits to confirm that each part is operating as it should. And that all procedures for keeping it running smoothly are being adhered to.
System design: Setting up a network is pretty straight forward. Setting up a network that runs efficiently is not so straight forward. We make sure that the communication between your staff and your server system is continuous and reliable.
Server installations and upgrades: We'll install server software as well as take care of upgrades.
Software upgrades: Any time you need to get your software upgraded to the latest version, just give us a call. You can relax as we make the whole process go by smoothly. We can also set up a local machine to handle Windows updates. Instead of each PC connecting to the Internet to download Windows updates, all updates will be downloaded onto a local server, and each user can get their updates from there. No more wasted bandwidth.
Administration: We can help you with all administrative tasks. Looking for someone to run day-end routines? Look no further. Because we can set up a remote link to your system, we can look after all your needs directly from our offices. If you need something more permanent, have a look at our IT Outsourcing service.
Backups: Backups are imperative. We'll set up an automated backup system for you so that your information is always safe. This includes server backups, PC backups, backups through the network, setting up the backup software and scheduling the backup times so that everything runs like clockwork.
Automation: We can get systems to carry out any number of tasks automatically. It might be transferring data from a branch database to your local database every evening, or sending out company reports to selected people on a daily basis. Whatever the requirement, we can get it done.
Training: People are as much a part of your network as the computers and cables themselves. A well trained user helps to make the system operate as it should. Remove the mental bottlenecks from your operations by allowing us to train your users in the aspects of the system that are relevant to them. We provide one-on-one training or we can produce training courses and instructional materials to your specifications.
Support: We are up to any network support task. Whatever the problem, you will be glad you called us in to sort it out for you.
Networking and network monitoring: We can set up network monitoring tools for you so that you can not only pick up problems that usually remain unseen until it is too late, but also keep a watchful eye on the current activity of your network. This can help you determine when it is time to change or upgrade to allow faster communication or processing.
Integration: Getting systems to transfer information between each other is one of our specialities. It might be getting KPI information from your accounting system, or supplier information from a sales partner. Whatever the requirement, we can get both local and remote systems talking to each other so that data flows freely between them, no matter how different they are.